Ditch & Drain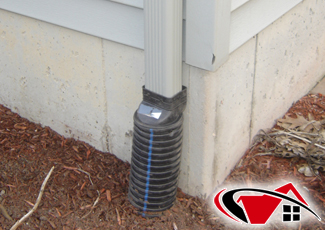 When rainwater collects in your gutters, it is released through your downspouts and filtered away from your home. After your downspout captures rainwater, it is important that the water is dispersed into the ground evenly or that it is re-directed to an area that can handle the water, protecting your landscape and ensuring that your foundation is not ruined. This scenario is what is supposed to happen but, unfortunately, that isn't always what occurs. When too much water collects near your home, you may be faced with costly damage.
With our ditch and drain services, our goal is to inspect your downspouts and provide you with an effective solution so this never happens to you.
At Iron Horse GutterWorks, we have an effective solution to your gutter drainage problems that protects your foundation from damage, your landscape from washout, and makes lawn care easier. By adding a 10-foot solid pipe to your downspout, followed by a socket pipe that runs underground, we can effectively redirect water and allow it to disperse into another area of your property. By first inspecting what area of your yard is the best for water to drain into, we can then properly add our ditch and drain methods, changing where your downspout releases water.
The most important thing to us is that your gutters and downspouts enhance the protection of your home, instead of creating more problems. We have the years of experience and knowledge necessary to complete even the toughest of gutter drain jobs, protecting your property and giving you peace of mind. For your ditch and drain estimate and inspection, get in touch with one of our gutter drain experts in Syracuse today.